Soil Health Seminar: Adopting Regenerative Agricultural Principles
January 20-21, 2022 at Riviera Theatre, Three Rivers, Michigan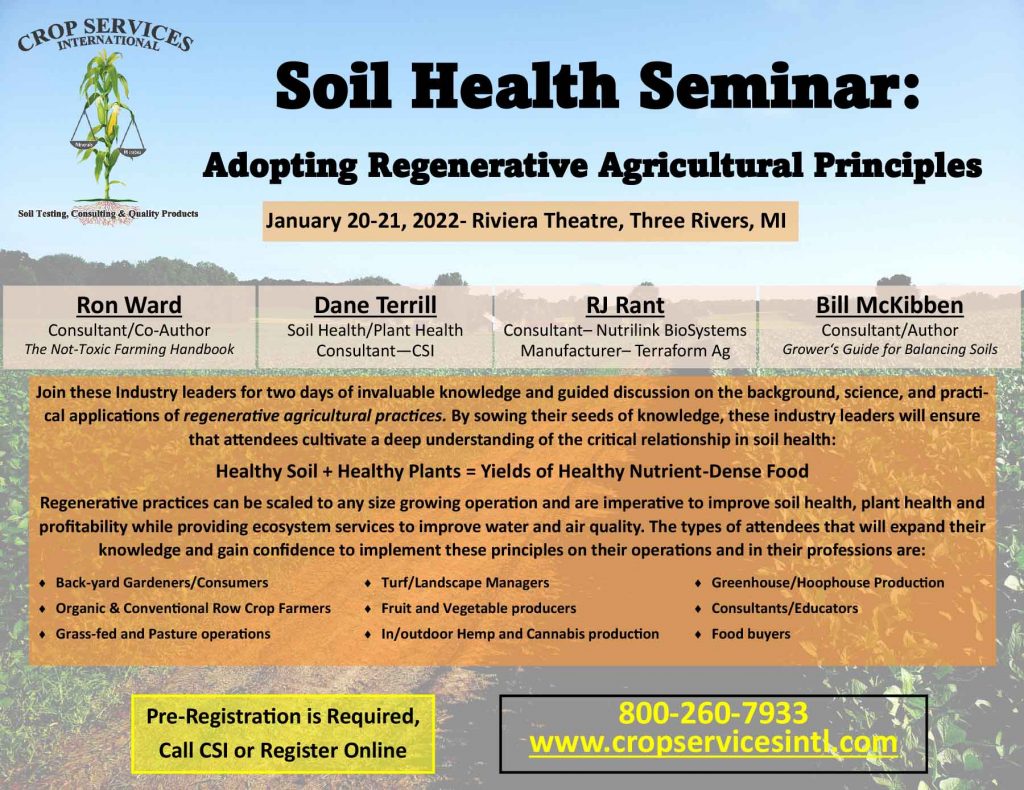 Topics Covered
Soil/Plant Testing & Interpretation
Mineral Balance for Soil Structure and Plant Nutrition
Improving Biological Systems to Enhance Fertility
Roles of Soil Carbon– The "Real" Limiting Factor
Improving Soil with Cover crops
Managing & Monitoring Soil Health
Plant Growth Stages and Nutritional Requirements
Tools to monitor Plant Health: Brix/Plant Sap Analysis
Weeds/Insects/Disease- "All Your Fault"
Biological Inoculums– Brew you own or Purchase
Foliar Feeding & Water Quality
Implementing Regenerative Strategies to Increase Profitability
The Riviera Theatre
The Riviera Theatre is located at 50 N Main St, Three Rivers, MI 49093, 269-278-8068. This historic 370 seat venue is located on (Business US-131) in downtown Three Rivers, MI. There are free public parking lots across the street from the theater off Joshua Drive. (Map will be sent with registration confirmation) 
Lodging: CSI has reserved a block of rooms at the Super 8 by Wyndham Three Rivers for attendees to stay for $88/night. This includes complimentary breakfast, WIFI, Indoor Heated Pool, and parking. This hotel is located off US-131 at 689 Super 8 Way, Three Rivers, MI 49093 and is two miles from the seminar venue. Call to reserve your room early as the block will expire Jan. 1st. 269-279-8888. 
Travel via Automobile: Three Rivers, MI is located on US-131 approximately 20 miles south of Kalamazoo (I-94 interchange) and 15 miles North of (I-80/90 Toll road). The hotel is direct-ly off US-131, the Riviera Theater is located "Downtown" Three Rivers and can be accessed via W Michigan Ave or Business 131. Travel via flight- Nearest airports are Kalamazoo/Battle Creek International airport (AZO) 25 miles, Grand Rapids, MI (GRR) (75 Miles) and South Bend, IN (SBN) (53 miles). Via Train or Bus- Amtrak and Greyhound/Trailways both have daily service to Kalamazoo Bus/Train Station. This hotel doesn't offer shuttle service to or from airports or bus or train station, alternate transportation needs to be arranged. 
Dining: Light breakfast, Lunch, snacks and refreshments will be provided both days during the seminar, for other meals/snacks there are numerous restaurants within one mile of the hotel. 
Cancellations: If you are forced to cancel your registration and do so by Jan 7, 2022, you will receive a full refund. After Jan 7, 2022, a 70% refund will be issued in the form of credit for products and services offered through Crop Services International. 
Register Online

For More Information Call  800-260-7933